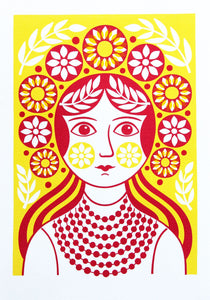 by Karoline Rerrie.
Three colour screen print on 250gsm white Fabriano Unica paper made using hand cut stencils. Available unframed.
Dimensions: 21 x 29.7 cm. Limited edition of 28.
About the artist: Karoline is an illustrator and print maker who specialises in screen print. Her work is characterised by bright colours, bold outlines and patterns. She draws artwork by hand and then carefully screen prints it in small limited editions using either photo-stencils or simple hand cut stencils. Karoline enjoys working with the combination of shapes and overlapping layers of flat colour. She is inspired by screen-printing and all the possibilities it offers.
This work is shown at Atelier Beside the Sea as part of the Atelier OPEN 2023 exhibition.