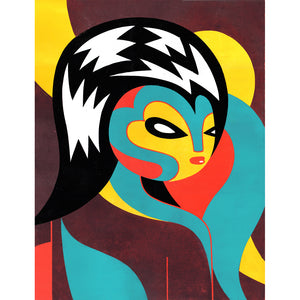 by Roman Klonek.
Original woodcut print.
Image size: 69 x 89,5 cm.
Edition of 8, numbered and signed on the back.
Roman Klonek, born in Kattowitz/Poland, has a spot for old fashioned cartoons and modern block printing styles. In the 90s he studied Graphic Arts in Duesseldorf and discovered a passion for woodcut. For the past 20 years he has created illustrations and prints with a wide range of whimsical creatures, mostly half animal/half human and preferably in awkward situations. His work can be described as a bizarre balancing act between propaganda, folklore and pop. He works together with friends in a studio in Düsseldorf, Germany.
This work is shown at Atelier Beside the Sea as part of the Untamed Supporters exhibition.