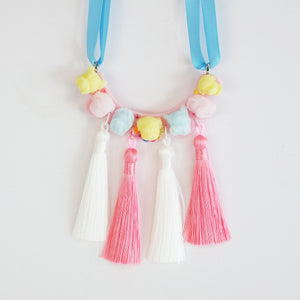 by Atelier Tomassi.
A pale pink scallop-edged resin semicircle forms the base for the selection of dogs heads, jewels and tassels. The pendant is hung on a pale blue grosgrain ribbon with a lobster clasp. There is a 4 cm extender chain, in case you like your pendants to hang a little lower. 
Dimensions: W100 x H130 x D15 mm.
Chain length: 22".
Caro Russo Tomassi is a jeweller based in Kent. She creates her vibrant and playful statement pieces using vegan-friendly, non-toxic epoxy resin, ribbons and tassels. Caro has always been influenced by mid-century design, colour, print and a love of kitsch. Through the casting of familiar childhood toys and ornaments, as well as mid-century jewellery pieces from her mother's jewellery box, she is able to create new pieces that fulfil her desire for a "pretty" ending.