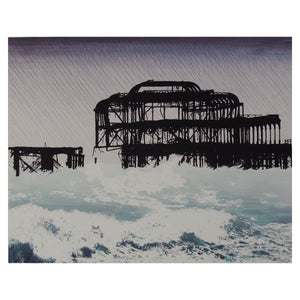 by Janet Brooke.
Original screenprint, available unframed.
Image size: 51 x 41 cm.
Paper size: 66 x 55 cm.
Artist's Proof, signed.
Janet Brooke is a printmaker based in Brighton. She prints all her small edition screenprints and linocut prints by hand in her studio. Her pieces are inspired by her local surroundings, which were initially the urban landscapes of London and more recently some of the more quirky aspects of her current home city of Brighton. Her most recent pieces are the results of daily walks along the undercliff path, contemplations of the ever changing nature of the sea and its relation to the equally changing skies but with the added human elements of traditional seaside architecture, including that newest addition to the landscape: the wind turbines hovering mysteriously on the horizon.
This work is shown at Atelier Beside the Sea as part of the Changing Horizons exhibition.