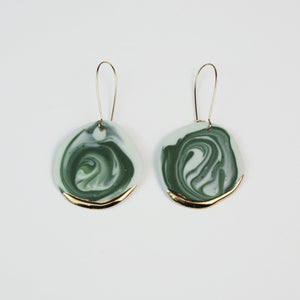 by Abalon.
These porcelain earrings are finished with gold and fitted with gold plated brass fixings.
Size: 38 x 38 mm approx.
No two are the same.
Ana Bridgewater is the founder and main designer of Abalon. She creates high quality translucent porcelain candle holders and jewellery with real gold details. Ana has a background in the arts and her work has been exhibited in London, Paris, New York and Madrid. She is listed in Crafts Council directory.