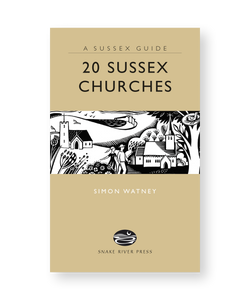 Written by Simon Watney.
Illustrated by Sarah Young.
Expand your ecclesiastical horizons by getting up close and intimate with some of the most remarkable parish churches in Sussex. 20 Sussex Churches takes the visitor on a fascinating and illuminating journey, revealing along the way the rich religious, social and architectural history that lies behind each church façade. From the grand to the humble, the rural to the urban, the ancient to the more modern, each landmark church offers something unique and uplifting. If your knowledge of church furniture and architecture stops at 'font' and 'spire', here is an opportunity to explore the history of Christianity and church-building in Sussex and discover why churches still matter in the modern world.

Key Points:
An enlightening guide to 20 expertly selected churches encompassing the social and architectural history of church-building in Sussex.
Architectural features and specific monuments described and explained in a mini walk-through tour of each selected church.
Includes a comprehensive glossary providing an invaluable explanation of specialist architectural terms.
Links to useful websites of relevant organisations are provided.
A user-friendly guide with the precise location of each church pinpointed by National Grid References, and advice on public transport and access.